Caledon, Ontario
The Town Of Caledon (2001 population 50,595) is located within the Regional Municipality of Peel, in the Greater Toronto Area (GTA). The town is located just north of Brampton, ON . The Town of Caledon was established on January 1, 1974 in conjunction with the creation of regional government. Representing an amalgamation of the former County of Peel townships of Albion, Caledon and the northern half of Chinguacousy.
Caledon consists of an amalgamation of a number of urban areas, villages, and hamlets; its major urban centre with typified surbuban housing mixed with old town charm is Bolton, located on its eastern side adjacent to York Region. The others are Caledon East, Mayfield West, Cheltenham, Alton, Inglewood and Caledon itself.
The Town of Caledon is an area with dramatic and significant landforms, major river systems and a landscape that is rich with evidence of its human history.
Greenest Town in Ontario (2003)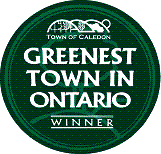 The Town is well respected for its progressive approach on "green" matters as recognized recently by being named the co-recipient of the "TVO Greenest Town in Ontario" Award in 2003.
The award was granted to Caledon because of a number of its progressive environmental initiatives. These include excellent countryside planning, the Healthy Horticultural Landscapes Bylaw, strong community involvement, membership in the Partners for Climate Protection Program and extensive waste diversion programs, in addition to the staff position of an Environmental Progress Officer (EPO) in the Fall 2004.